Foundation Tube Systems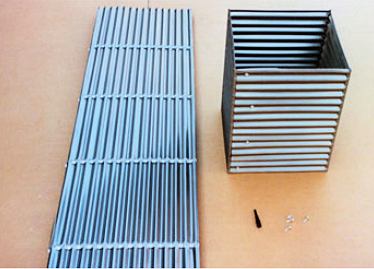 Folding tubing shuttering of corrugated sheet metal type FKF-easy
System descriptions type FKF-easy:

These are cut to size and crosswise perforated depending on size.

The shuttering is of very small shipping volume and can therefore be economically delivered. Spatial needs for e.g. 100 pcs folded tubing, dimensions 60 x 60 cm, height 100 cm, total just 2.4 sqm.
Assembly is easy by bending the sheeting on site. Where it overlaps the shuttering is connected together quickly and easily using the self-tapping screws supplied.
We recommend screwing in the selftapping screws offset to one another with an accumulator screwdriver. We recommend fastening any loose base plates included with a shipment in place with these self-tapping screws. This ensures that the covers cannot come loose from the tubing when concreting.